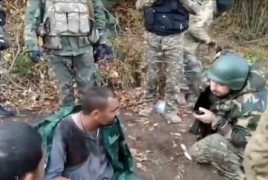 November 2, 2020 - 21:33 AMT
PanARMENIAN.Net - Footage depicting the capture of a Syrian mercenary recruited by Azerbaijan to fight against the Armenians of Nagorno-Karabakh has landed online.
The Karabakh army has so far provided details about two terrorists deployed to Azerbaijan, one of whom said he was promised $100 for each decapitated head of an "infidel".
In the war against Artsakh (Nagorno-Karabakh), the Turkish armed forces are supporting Azerbaijan militarily, also by transferring terrorist mercenaries from Libya and Syria to fight against Karabakh. Armenia was the first to report on Turkey's deployment of thousands of Syrian fighters to Azerbaijan. International media publications followed suit, as did reactions from France, Russia, Iran and Syria. The Nagorno-Karabakh Defense Army has already unveiled footage of the interrogation of one such terrorist captured on the front.
Azerbaijan, with help from Turkey and Syrian and Libyan mercenaries deployed by Ankara, started a war against Karabakh (Artsakh) in the morning of September 27. The Armenian side has reported deaths and injuries both among the civilian population and the military. Foreign and local journalists too have been injured in Azeri shelling of towns and villages.