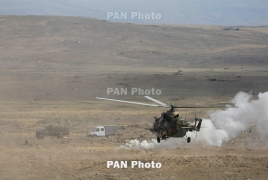 November 3, 2020 - 20:20 AMT
PanARMENIAN.Net - The number of militants involved in the Nagorno-Karabakh hostilities is approaching 2,000, Russian Foreign Minister Sergey Lavrov said in an interview with Kommersant on Tuesday, November 3.
In the war against Artsakh (Karabakh), Turkey is supporting Azerbaijan militarily, also by transferring terrorist mercenaries from Libya and Syria to fight against Karabakh. Armenia was the first to report on Turkey's deployment of thousands of Syrian fighters to Azerbaijan. International media publications followed suit, as did reactions from France, Russia, Iran and Syria. The Nagorno-Karabakh Defense Army has already unveiled footage of the interrogation of one such terrorist captured on the front.
"We are concerned about the internationalization of the Nagorno-Karabakh conflict and the involvement of militants from the Middle East. We have repeatedly called on external players to use their capabilities to prevent the transfer of mercenaries, whose number in the conflict zone, according to the data we have, is already approaching 2,000," Lavrov said.
"The matter was raised by [Russian President] Vladimir Putin during a telephone conversation with Turkish President Recep Tayyip Erdogan on October 27, and in regular contacts with the leaders of Azerbaijan and Armenia. We continue to persistently promote our position through various channels."
Azerbaijan, with help from Turkey and terrorist mercenaries deployed by Ankara, started a war against Karabakh (Artsakh) in the morning of September 27. The Armenian side has reported deaths and injuries both among the civilian population and the military. Foreign and local journalists too have been injured in Azeri shelling of towns and villages.