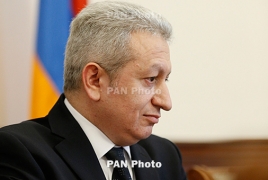 November 4, 2020 - 17:39 AMT
PanARMENIAN.Net - Armenia could revise the draft budget for 2021, Finance Minister Atom Janjughazyan told parliamentary hearings on the draft budget Wednesday, November 4, Arka.am reports.
According to him, the draft budget was prepared before mid-September and took into account only one threat which is the coronavirus pandemic, while the country has now introduced martial law.
"Right now we cannot revise the government budget, since the degree of uncertainty, especially in the field of defense, remains very high and, therefore, we cannot make amendments now," Janjughazyan said.
He stressed that the revision implies a change not only in the financial component, but also in the policy, and therefore the approaches should be balanced – economic recovery, generation of resources for spending and social issues.
"There are still many uncertainties, we cannot talk about changes in spending, especially in the defense sector," Janjughazyan said.
In the draft state budget for 2021, the revenue is projected at AMD 1.569 trillion, expenditure at AMD 1.843 trillion, with a deficit of AMD 274 billion (4.1% of GDP). Economic growth is projected at 4.8%, and inflation in the budget for 2021 is set at 4% (± 1.5%). ($ 1 – AMD 493.66).