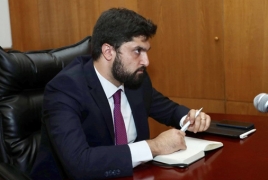 November 16, 2020 - 11:02 AMT
PanARMENIAN.Net - Several Armenian lawmakers and politicians resigned on the night of Monday, November 16, amid political divisions and civil unrest broiling in the country.
Head of Armenia's Deputy Prime Minister's office Varak Sisserian resigned and ended his membership in the Civil Contract party, citing a Facebook post by Prime Minister Nikol Pashinyan.
The PM said, in particular, that he was waiting for the frontline soldiers to return to Yerevan to solve the problems of "those who are groaning under the walls", which many people thought was a call for a civil war. Chief of government staff Eduard Aghajanyan said, however, that the Prime Minister has been misunderstood.
"The post is just a thank you to the heroic boys who, being on the front lines for weeks, continue to show a high civic consciousness," Aghajanyan said, maintaining that Pashinyan was also urging not to give in to provocations, not to try to destabilize the political situation, and to unite for the sake of Armenia and Artsakh.
Also, lawmaker Gayane Abrahamyan from the ruling My Step bloc resigned from Parliament on Monday, while Taguhi Tovmasyan said she is leaving the parliamentary faction.
Lusine Badalyan, another MP from My Step, said she would resign too if her colleagues do not take urgent measures to mend the situation.
In an online press conference on Monday morning, Pashinyan too denied he was inciting a civil war, charging that his Facebook post meant that soldiers who fought for Nagorno-Karabakh would have something to add to the whole story.
Armenian Prime Minister Nikol Pashinyan, Russian and Azerbaijani Presidents Vladimir Putin and Ilham Aliyev have signed a deal to end the war in Karabakh after almost 45 days. Karabakh (Artsakh) President Arayik Harutyunyan said on Tuesday that he has agreed to the deal signed by Armenia, Russia and Azerbaijan.