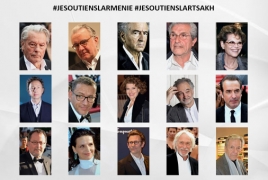 November 21, 2020 - 11:03 AMT
PanARMENIAN.Net - 120 prominent French artists and intellectuals have issued a statement in support of Armenia and Artsakh (Nagorno-Karabakh), the French Embassy in Yerevan reports.
Joining the call are world-renowned actors Alain Delon, Claudia Cardinale, Jean Reno, Fanny Ardant, Danny Boone, Juliette Binoche, Pierre Richard, Jean Dujardin, world-renowned intellectuals Jacques Attali, Claude Lelouch, Michel Hazanavicius, famous TV personality Stephen Burn, world-famous chef Alain Ducasse.
"More than a century after the Armenian Genocide at the hands of Ottoman rulers in 1915, the same people are again victims of two authoritarian regimes which, in Baku and in Ankara, incite inter-ethnic hatred in order to endow their power with a new bloody trophy," the open letter reads.
"The fate of the Armenians has just been brutally damaged in Nagorno-Karabakh, a region they call Artsakh. Humble and proud people, firmly attached to their rocky, wonderful soil, have lived there for more than two millennia. They wanted to continue their existence where their ancestors had built their homes, their schools and their admirable monasteries."
The artists say Karabakh is a mere territory for Baku and Ankara.
They also cited evidence that Azerbaijan used cluster bombs prohibited by international law.
"The fight was totally unequal. The Armenians did not want this war, but they were forced to fight for their survival. For the Azeri regime, it is only a matter of nationalist pride. In the 21st century, such a detestation of humans, such exaltation of hatred, arouses the deepest indignation and has absolutely no place to exist," the letter says.
Armenian Prime Minister Nikol Pashinyan, Russian and Azerbaijani Presidents Vladimir Putin and Ilham Aliyev have signed a statement to end the war in Karabakh after almost 45 days. Karabakh (Artsakh) President Arayik Harutyunyan has said he has agreed to the deal signed by Armenia, Russia and Azerbaijan.