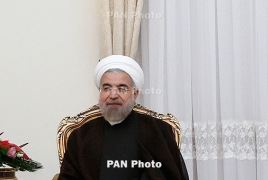 November 28, 2020 - 13:51 AMT
PanARMENIAN.Net - Iran's president has accused Israel of killing a high-ranking Iranian nuclear physicist long suspected by the West of masterminding a secret nuclear bomb program, state TV reported, according to Al Jazeera.
"Once again, the evil hands of global arrogance were stained with the blood of the mercenary usurper Zionist regime," President Hassan Rouhani said in a statement, according to the state TV report on Saturday, November 28.
"The assassination of martyr [Mohsen] Fakhrizadeh shows our enemies' despair and the depth of their hatred … His martyrdom will not slow down our achievements."
Iran's religious and military rulers have threatened revenge for Friday's killing of nuclear scientist Fakhrizadeh, who Iranian media said died in hospital after attackers gunned him down in his car in Ab-Sard, a suburb in eastern Tehran.
Fakhrizade, 63, had been a member of Iran's Revolutionary Guard and was an expert in missile production. He served as the head of the Organization of Defensive Innovation and Research of the defence ministry at the time of his death.
Israeli Prime Minister Benjamin Netanyahu had specifically mentioned Fakhrizadeh by name in a 2018 presentation about Iran's nuclear programme. "Remember this name," he had said.
Iran's Supreme Leader Ayatollah Ali Khamenei promised on Saturday to retaliate for the assassination of Fakhrizadeh and said his nuclear work would continue, Reuters reports.