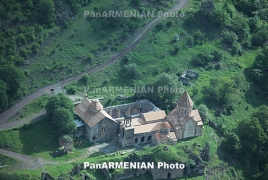 November 30, 2020 - 19:15 AMT
PanARMENIAN.Net - Brown Foundation Fellow Hugh Eakin has penned an op-ed for The New York Times, arguing whether the new ceasefire in Nagorno-Karabakh offers hope for the preservation of threatened Armenian monuments in the region.
Hundreds of Armenian churches, monuments and carved memorial stones (khachkars) will come under the control of predominantly-Muslim Azerbaijan according to a cease-fire agreement reached earlier this month.
For many Armenians, turning over so much of their heritage to a sworn enemy poses a grave new threat, even as the bloodshed has for the moment come to an end, Eakin says.
Between 1997 and 2006, the Azerbaijani government undertook a devastating campaign against Armenian heritage in Nakhichevan, an Azerbaijani enclave separated from the main part of the country by Armenian territory: Some 89 churches and the thousands of khachkars, or carved memorial stones, of the Djulfa cemetery, the largest medieval Armenian cemetery in the world, were destroyed. And since the recent cease-fire, images circulating on social media suggest that some Armenian monuments and churches in territory newly claimed by Azerbaijan have already been vandalized or defiled.
In any instance of intercommunal strife, preserving monuments must take a distant second place to saving lives and protecting human welfare, he says, but the fate of cultural sites matters, too, for the prospects of long-term peace.
In many cases of cultural cleansing around the world, the article says, the UN, the United States and its European allies have remained largely mute. UNESCO, which depends on many of the offending governments for funding and support, has shown little interest in intervening. By contrast, the author says, the case of Karabakh, where a hot war has just ended, could provide a rare opportunity.
"Yet in the immediate aftermath of war, precisely because a peace effort is underway, foreign governments and international peacekeepers are unusually well-placed to intervene. Unlike during armed conflict, there is also a chance for international mediators and local communities to work together to prevent attacks before the damage is done," the article says.
"The historical treasures of Nagorno-Karabakh need not become casualties of the recent war between Armenia and Azerbaijan — nor drivers of a next one. In Nagorno-Karabakh, cultural reconciliation is still possible. Despite the dismal record of the past three decades, both sides have demonstrated awareness of — and admiration for — heritage that is not their own. In 2019, Armenians restored a prominent 19th-century mosque in Shushi. And in his recent address, Mr. Aliyev acknowledged the importance of the region's churches — even as he denied their Armenian origin."
The author maintains that a durable future for Armenian sites — especially the numerous less well known medieval churches and ornate khachkars — will require direct engagement by Armenians and Azerbaijanis themselves.