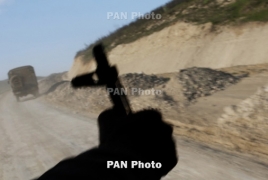 December 2, 2020 - 19:27 AMT
PanARMENIAN.Net - Over 900 fighters from Turkish-backed Syrian factions have returned to Syria from Azerbaijan, after the cessation of hostilities in Nagorno-Karabakh, the London-based Syrian Observatory of Human Rights reports.
According to the monitor, the total number of Syrian fighters thrown into the Karabakh battles reached 2,580, with 342 of them returning to Syria after giving up and forgoing their payments.
The SOHR says 293 Syrian mercenaries have been killed in fighting, including 225 fighters whose bodies have been returned to Syria. The Nagorno-Karabakh authorities, however, have put the death toll among them at around 1000.
In the war against Artsakh (Karabakh), Turkey supported Azerbaijan militarily, also by transferring terrorist mercenaries from Libya and Syria to fight against Karabakh. Armenia was the first to report on Turkey's deployment of thousands of Syrian fighters to Azerbaijan. International media publications followed suit, as did reactions from France, Russia, Iran and Syria. The Nagorno-Karabakh Defense Army has already unveiled footage from the interrogation of two such terrorists captured on the front.
Armenian Prime Minister Nikol Pashinyan, Russian and Azerbaijani Presidents Vladimir Putin and Ilham Aliyev on November 9 signed a statement to end the war in Karabakh after almost 45 days. Under the deal, the Armenian side is returning all the seven regions surrounding Nagorno-Karabakh, having lost a part of Karabakh itself in hostilities.