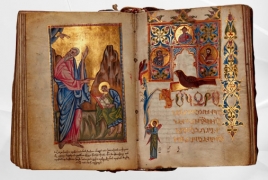 December 3, 2020 - 13:28 AMT
PanARMENIAN.Net - Sotheby's auctioned off an early 17th century illuminated Armenian Gospel manuscript for £69,300 (around $93,000)
The book with a tooled calf binding was initially estimated to fetch £7,000 - 10,000 by December 1 – the last day of bidding.
The 147 x 100mm 197-leaf book is believed to have been created in Amida, an ancient city in Mesopotamia located where modern Diyarbakır (Turkey) now stands.
A full-page miniature of an Evangel can be found at the start of each book, with the facing text written in gold with ornithomorphic illuminated letters and an illuminated headpiece. Written in bolorgir (cursive) in double columns with 27 lines, the manuscript contains numerous marginal illuminated vignettes and cartouches.
According to the description on the auction house's website, the iconography and decoration is remarkably similar to a manuscript in the Walters Art Gallery, Baltimore, which was written by the scribe Melk'on and illustrated by Hovannes in the scriptorium of Amida in the early seventeenth century.