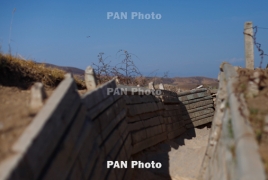 December 11, 2020 - 12:00 AMT
PanARMENIAN.Net - An Azerbaijani soldier has confirmed that militants from Pakistan fought on the side of Azerbaijan against Nagorno-Karabakh (Artsakh).
In a video spreading online since Thursday, December 10, the young serviceman blurted out how their "Pakistani brothers" helped them in the battle.
"I also want to emphasize that our brothers from Pakistan came and helped us. Some of them spoke Turkish, they talked to us, they said..." the soldier said before being interrupted by the TV host.
Kommersant reported in late October that at least one batch of militants had been sent from Pakistan's Peshawar to Azerbaijan weeks before the report to participate in hostilities against Nagorno-Karabakh.
Turkey, meanwhile, overtly supported Azerbaijan militarily, also by transferring terrorist mercenaries from the Middle East to fight against Karabakh. Armenia was the first to report on Turkey's deployment of thousands of Syrian fighters to Azerbaijan. International media publications followed suit, as did reactions from France, Russia, Iran and Syria. The Nagorno-Karabakh Defense Army has already unveiled footage from the interrogation of two such terrorists captured on the front.