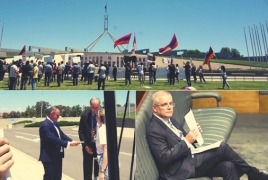 December 11, 2020 - 14:29 AMT
PanARMENIAN.Net - Armenian-Australian protestors descended upon Federal Parliament House in Canberra, delivering a letter that was directly handed to Prime Minister Scott Morrison calling for an end to the Australian Government's silence on Azerbaijan's continuing brutality against the indigenous Armenians of Nagorno-Karabakh and urging national recognition of the Republic of Artsakh's right to self-determination, reported the Armenian National Committee of Australia (ANC-AU).
More than one hundred Armenian-Australians from Sydney and Melbourne chanted #RecognizeArtsakh outside Parliament House, with Members of Parliament from the Australia-Armenia Inter-Parliamentary Union (Friendship Group), John Alexander MP and Tim Wilson MP exiting the building to receive the letter, which included the following demands:
"We are protesting today, demanding our Government stands tall and raises its voice loud for Australian values and for fundamental human rights in its representation of us, its citizens. We demand that Australia calls for Azerbaijan's return of Armenian prisoners of war, unharmed. We demand Australia calls for a stop to the cultural destruction and religious desecration being committed by Baku."
"We demand that Australia calls out Azerbaijan and Turkey for their Neo-Ottoman and Pan-Turkish expansionist policies that have resulted in the destruction of the Armenian homeland on more than one occasion. We demand Australian assistance for the 100,000 refugees and thousands of injured these attacks have created. We demand Australia calls for a return of all member countries of the OSCE Minsk Group to oversee final peace negotiations, with the right to self-determination and non-use of force as core guiding principles."
"Finally, we demand that Australia recognises the Republic of Artsakh as this is the only lasting solution that will bring peace to Nagorno Karabakh, and security for the region's indigenous Armenians and to the volatile region as a whole," the letter concluded.
Alexander and Wilson personally handed the letter to Australia's Prime Minister Scott Morrison, his principal private secretary and his multicultural advisor, as well as to Foreign Minister Marise Payne and her Chief of Staff. The letter's content was also discussed with Prime Minister Morrison.
Orange County in California, Italy's Lombardy, the Australian state of New South Wales, several U.S. states and dozens of cities and towns across the world have already recognized Karabakh.