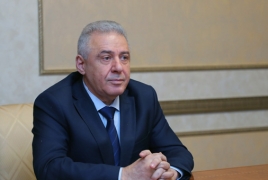 December 21, 2020 - 19:30 AMT
PanARMENIAN.Net - The Armenian side has provided the International Committee of the Red Cross with information about 62 servicemen taken captive by the Azerbaijani troops near the villages of Hin Tagher and Khtsaberd in Nagorno-Karabakh's Hadrut region, Armenian Defense Minister Vagharshak Harutyunyan said Monday, December 21.
The situation around the two villages came to a head when Azerbaijan launched new offensives to capture them on December 11, having seized most of the region of Hadrut during the war. According to a trilateral statement signed by Armenia, Azerbaijan and Russia on November 9, the parties were supposed to remain at their current positions, which means both Hin Tagher and Khtsaberd should have remained under the Armenian side's control.
Harutyunyan spoke to the parents and family members of the newly-captured servicemen via videoconference on Monday and said the Armenian side doing everything to settle the matter as soon as possible. the Defense Minister said their personal information has been sent to the International Court of Human Rights (ICRC).
According to him, the issue is also in the center of attention of the Russian peacekeeping contingent in Artsakh (Karabakh).