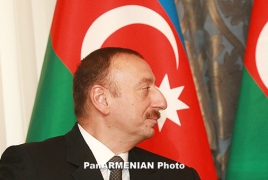 January 7, 2021 - 15:47 AMT
PanARMENIAN.Net - Azerbaijani President Ilham Aliyev has said that Armenians captured by Azeri troops after the completion of hostilities in Nagorno-Karabakh are not prisoners of war but "terrorists", local media reports say.
Aliyev was referring to the group of Armenians who were taken captive near the villages of Khtsaberd and Hin Tagher in Hadrut, Karabakh, both settlements having remained under Armenian control after the war.
The situation around the two villages came to a head when Azerbaijan launched new offensives to capture them on December 11, having seized most of the region of Hadrut during the war.
According to a trilateral statement signed by Armenia, Azerbaijan and Russia on November 9, the parties were supposed to remain at their current positions, which means both Hin Tagher and Khtsaberd should have remained under the Armenian side's control. No information has been provided to clarify the fate of the two settlements so far.
Armenian lawyer Siranush Sahakyan said on Wednesday, January 6 that at least 120 Armenian prisoners of war are being held in Azerbaijan. Sahakyan represents the rights of some of the Karabakh POWs before the European Court of Human Rights. The lawyer said there is enough evidence proving the capture of said persons, which the Armenian side will submit to international agencies and courts. Her comments came a day after the Azerbaijani side declared about only five Armenian POWs.