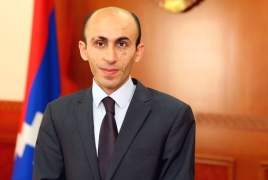 January 13, 2021 - 14:59 AMT
PanARMENIAN.Net - Azerbaijan has imprisoned dozens of Armenian prisoners of war without confirming their identities to either the International Committee of the Red Cross or the Russian mediators, Chief of Presidential Staff of Artsakh (Nagorno-Karabakh), former Human Rights Defender Artak Beglaryan said Wednesday, January 13.
"Azerbaijan continues to heavily violate international humanitarian law by speculating the issue of captured civilians and war prisoners," Beglaryan wrote on Twitter.
"Many PoWs and civilians from wartime, 64 PoWs and some civilians from postwar period are prisoned there without Azerbaijan's confirmation to ICRC and Russian mediators."
The first batch of 44 Armenian POWs returned from Azerbaijan in mid-December, although Armenian officials said many more people were being held in Baku. Dozens of others, both servicemen and civilians, have been captured after the completion of military hostilities. Azerbaijani President Ilham Aliyev has said in one of his speeches that the newly detained persons are not prisoners of war but "terrorists". Human rights lawyer Siranush Sahakyan has said, meanwhile, that at least 120 Armenian prisoners of war are being held in Azerbaijan. Sahakyan represents the rights of some of the Karabakh POWs before the European Court of Human Rights. The lawyer said there is enough evidence proving the capture of said persons, which the Armenian side will submit to international agencies and courts.