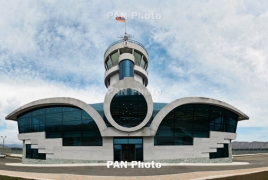 January 15, 2021 - 13:43 AMT
PanARMENIAN.Net - The Stepanakert airport will most likely begin operations for peacekeepers in the first stage, Artsakh (Nagorno-Karabakh) Foreign Minister David Babayan said in an interview with the Public Television of Armenia.
"I think the airport will start working, it just takes time. At the moment, I think, everything suggests that it will first be used as a military object by the peacekeepers to ensure their needs and security issues," Babayan said.
After that, he said, steps will be taken so that the facility can be used for civilian purposes: "I have almost no doubt that it will be exploited, time will tell. As a military facility, I think it will be operated."
Armenian Prime Minister Nikol Pashinyan, Russian and Azerbaijani Presidents Vladimir Putin and Ilham Aliyev on November 9 signed a statement to end the war in Karabakh after almost 45 days. Under the deal, the Armenian side has returned all the seven regions surrounding Nagorno-Karabakh, having lost a part of Karabakh itself in hostilities.