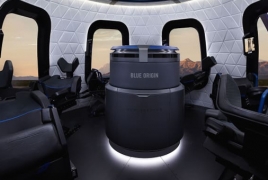 January 16, 2021 - 15:20 AMT
PanARMENIAN.Net - After years in development, Jeff Bezos' private space company Blue Origin aims to carry its first passengers on a ride to the edge of space by April, CNBC reports citing sources familiar with the project.
Blue Origin on Thursday, January 14 completed the fourteenth test flight of its New Shepard rocket booster and capsule. Called NS-14, the successful test flight featured the debut of a new booster and an upgraded capsule.
Beyond the upgrades, CNBC has learned that NS-14 also marked one of the last remaining steps before Blue Origin flies its first crew to space.
The flight was the first of two "stable configuration" test flights, people familiar with Blue Origin's plans said. Stable configuration means that the company plans to avoid making major changes between this flight and the next.
Additionally, those people said that Blue Origin aims to launch the second test flight within six weeks, or by late February, and the first crewed flight six weeks after that, or by early April.
Blue Origin's next flight, NS-15, will also include a test of loading and unloading the crew, the people said.
The company declined to comment on New Shepard's schedule, with a Blue Origin spokesperson saying that CNBC's reporting "was speculative and not confirmed."
New Shepard is designed to carry people on rides past the edge of space, reaching an altitude of more than 340,000 feet (or more than 100 kilometers). The capsule spends several minutes in zero gravity before returning to Earth, with massive windows to give passengers a view. Both the rockets and the capsules are reusable, with the boosters returning to land vertically and the capsules landing on control of a set of parachutes.