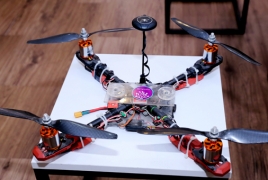 January 19, 2021 - 19:07 AMT
PanARMENIAN.Net - The Union of Advanced Technology Enterprises (UATE) at press conference on Tuesday, January 19 to announced the launch of Armath Airborne, its UAV (unmanned aerial vehicles) educational lab program.
Raffi Kassarjian, Executive Director, Sedrak Vardanyan, Armath Project Manager and Vahan Vardanyan, the nephew of the Founder of Armath Karen Vardanyan participated in the presentation.
The program is an extension օf the Armath Engineering Laboratories program. UATE is implementing the program based on methodology developed by Instigate Robotics.
"Launching the Armath Airborne program had been a top priority for our beloved Karen Vardanyan, who passed away last July," stated Kassarjian. "We are excited to fulfill his vision, one of the important components of which is to stimulate the interest of young people in a special area of the high-tech sector - aviation engineering."
The goal of the project is to open UAV educational laboratories in all 65 cities in Armenia (including Artsakh), and enrollment will be open to both city residents and young men and women from the surrounding regions. To achieve this goal, UATE is launching a fundraiser for the Armath Airborne project, with the goal of opening 25 laboratories in 2021 and 40 UAV laboratories in 2022. The total planned budget is AMD 422 million (over $812,000), AMD 52 million of which have already been raised in recent months.
"The first steps UATE took in this direction were the UAV competitions organized in 2013 and 2016. During the 2020 Nagorno-Karabakh war the family of Karen Vardanyan announced the "UAV Re-equipment" initiative, in which more than 600 families participated. At the same time, existing Armath lab instructors and Armath project staff also made significant contributions to the program with their own funds. Hence, we now have the necessary money to open 8 labs. We plan to install these laboratories this spring," said Sedrak Vardanyan.
Boys and girls aged 15-18 will get free technological education in Armath Airborne labs. They will gain theoretical knowledge about the operation of unmanned aerial vehicles, master the features of their design and construction, software, maintenance, and operation (piloting). Unlike other similar projects, Armath Airborne laboratories include both copter-style and fixed-wing UAVs.
You can make a donation in favor of the technological future of Armenia in the "Donate" section of the Armath official website by writing "UAV" in the comments section. If you'd like to donate to establish an Armath Engineering Laboratory, mention "Armath Lab" in the comments section. The cost of the constituent package of one UAV Lab is AMD 6.5 million or $12,250, and the cost of creating one Armath Lab is AMD 4.5 million or $8480.