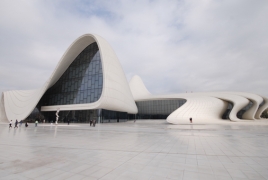 January 23, 2021 - 15:32 AMT
PanARMENIAN.Net - The Calvert Journal has published an article about how Azerbaijan's art scene appears to be concealing something darker – a deeply nepotistic environment which routinely suppresses dissident voices while crafting an international image of Azerbaijan as a free, art-loving nation.
On 2 October, 2020, days after war erupted between Armenia and Azerbaijan over Nagorno-Karabakh, a giant Azerbaijani flag rolled down the facade of Baku's YARAT Contemporary Art Space. The gallery, one of the main contemporary art venues in the Caspian capital, posted a picture of the building on Instagram, alongside the newly ubiquitous hashtag #KarabakhisAzerbaijan. Later that month, Turkish-born Kurdish artist Ahmet Öğüt, whose exhibition "No Poem Loves Its Poet" had been on show at YARAT since late May, asked for the politically-charged banner to be taken down and declared in a statement: "I refuse to allow my work to fall prey to political instrumentalisation". YARAT refused to take down the flag or the Instagram post, and instead decided to terminate Öğüt's exhibition on 29 October, three weeks earlier than planned. In a comment under the post, the art gallery said that the flag was simply "a sign of support to our country and to our nation".
The early cancellation, however, is just one example of how Azerbaijan's apparently thriving art scene conceals something darker: a deeply nepotistic environment which routinely suppresses dissident voices while crafting an international image of Azerbaijan as a free, art-loving nation.
The incident raised eyebrows in art publications worldwide, many concerned over the interference of political ideology in the case. It is not the first time that the country has attracted attention for the wrong reasons. Governed by President Ilham Aliyev and Vice-President and First Lady Mehriban Aliyeva, the Azerbaijani government has been repeatedly criticised by human rights' groups for ongoing censorship, a poor human rights record, and rampant corruption. And, like many nearby authoritarian regimes, members of the President's family are known to own most of the country's major businesses, earning them millions of dollars since the fall of the USSR and situating Aliyev amongst the world's richest oil billionaires
Yet while monopolising business may be commonplace in scores of heavy-handed regimes, the Azerbaijani government's bid to control contemporary art is just as fierce, and uses the same techniques which have seen Aliyev family members in commercial places of power.
YARAT, the gallery at the centre of the October flag incident, was founded by Aida Mahmudova, an artist, curator, and VP Mehriban Aliyeva's niece. When interviewed by Forbes in 2015, Mahmudova, who was described as "evasive" when asked about YARAT's links to the government, said that although the gallery receives technical support from the state, it is independent. However, Baku's Marriott Hotel, which is allegedly connected to Aliyev's daughters Leyla and Arzu Aliyeva according to reporters for the Organized Crime and Corruption Reporting Project (OCCRP), is one of YARAT's main partners.
Mahmudova is also the director of another of Azerbaijan's main contemporary art galleries: Baku's Museum of Modern Art (MoMa). The museum was founded by Mehriban Aliyeva in 2009, and is funded by the Heydar Aliyev Foundation (of which Mehriban Aliyeva is the President and Leyla Aliyeva the Vice-President), a charitable organisation created in memory of the former president of Azerbaijan and father of current president Ilham Aliyev. Elsewhere in Baku, another star venue on Azerbaijan's cultural scene is the Heydar Aliyev Center. Completed in 2012, the building was designed by renowned architect Zaha Hadid. The current director of the Heydar Aliyev Center is Anar Alakbarov, a former assistant to the Vice President of Azerbaijan and current assistant to the President.
"Ultimately, Azerbaijan is not innocently interested in cutting-edge art — its Caucasian neighbours, Georgia and Armenia, with comparably fewer resources, have more diverse creative scenes with a rising number of independent initiatives. Instead, much like other oil-rich, authoritarian countries like Qatar and the UAE, Azerbaijan's hopes to use art as a tool to attract international attention for something other than imprisoned journalists and crackdowns on free speech. By creating an international image as fervent art supporters, the Azerbaijani government masks how it has tirelessly worked to eliminate its independent arts scene, which now operates at a very small scale, online, or in exile. By supporting the flow of public money and oil wealth into art venues and projects — the most prestigious run by members of his own family — the Aliyev family has reaped a number of benefits: earning a global name as art-lovers, wiping out "problematic" creative expression at home by ensuring influence with those who control funding, and using this to ensure that local art institutions align with their ideological agenda," the publications says.
"Such spending reaps real-life rewards. In 2004, Mehriban Aliyeva was designated UNESCO Goodwill Ambassador, a laurel given in recognition of her actions to promote international cultural exchanges. Later, in 2010, Aliyeva received a gold medal from UNESCO for her "efforts in establishing an intercultural dialogue." Over the years, Azerbaijan has had a particularly favorable relationship with the UN body — in October 2015, at the petition of Mehriban Aliyeva, UNESCO hosted an exhibition ironically called Azerbaijan — Land of Tolerance at its Paris headquarters. At the opening, when a journalist asked Aliyeva whether the title of the exhibition lived up to the reality in Azerbaijan, considering the country has "many political prisoners in jail", Aliyeva denied this and turned her back while security guards pushed the journalist away. The relationship was particularly favorable between Mehriban Alliyeva and Irina Bokova, Director-General of UNESCO between 2009-2017. Their relationship came under scrutiny in 2017, when Kalin Mitrev, Bokova's husband, was investigated by the Bulgarian Chief Prosecutor in relation to media publications about payments made by Azerbaijani companies to his accounts. Bokova then wrote a letter to The Guardian defending the rightfulness of her relationship with Azerbaijan, but never spoke openly about the money allegedly received by her husband or her stance towards Azerbaijan's human rights abuses."
But ultimately, such international praise for the Aliyev government contradicts its real-life record on art. In 2011, Azerbaijan censored its own entry to the Venice Biennale, the world's most high-profile showcase of contemporary art, by hiding the work of one of its own artists under a piece of cloth. Moscow-based artist Aidan Salakhova's work Waiting Bride, which showed a woman in a black veil from head to foot, and another sculpture, which showed the Black Stone of Mecca contained in a vagina-shaped marble frame, were hidden under a white cloth. The government later claimed that the artworks were "damaged during transport", while senior sources at the exhibition clarified that the works were censored for being considered offensive to Islam.