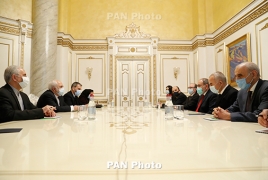 January 27, 2021 - 18:40 AMT
PanARMENIAN.Net - Prime Minister Nikol Pashinyan met Iranian Foreign Minister on Wednesday, January 27 and stressed that the repatriation of POWs remains a top priority for Armenia, his office said in a press release. According to him, the Armenian side understands that Clause 8 of the November 10 statement (the part obliging the sides to swap POWs and other detained persons - Ed.) should be fulfilled without preconditions.
The Prime Minister noted that many issues remain unresolved after the six-week war unleashed by Azerbaijan, including the status of Nagorno-Karabakh. He said Armenia is prepared to continue negotiations in the OSCE Minsk Group co-chairing format.
Zarif noted that Iran understands Armenia's concerns and is ready to back the country's humanitarian efforts. He also cited the Islamic Republic's stance on the matter, namely, "the respect of international law, the preservation of peoples, the preservation of minorities, as well as the observance of territorial integrity and the non-use of force."
The two also exchanged views on the situation in the region and developments in the wake of the Artsakh War. Both sides stressed the need to ensure regional stability and constructive cooperation. They prioritized the unblocking and re-commissioning of the transport and economic communications in the region, which would help tap the existing economic potential. Issues related to both current and potential projects were discussed during the meeting. The parties reaffirmed their readiness to continue the ongoing mutually beneficial cooperation.
On the sidelines of his visit to Armenia, Zarif said he does see real opportunities for connecting Armenia and the Islamic Republic via railroad through Nakhichevan.