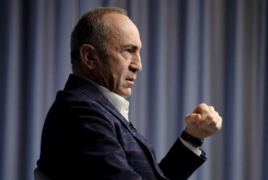 January 28, 2021 - 12:58 AMT
PanARMENIAN.Net - The second President of Armenia Robert Kocharyan has declared in intention to participate in the snap parliamentary elections, if they are held.
In an interview with Hayeli.am, Politik.am and Yerevan.today, the former President said his team has all the necessary tools for a political campaign.
"It would be more correct to provide a time lag during which the situation in the country could be stabilized, so that elections are organized in a more peaceful environment. In this case, we will certainly participate in elections," Kocharyan said.
He noted that organizing elections "in an atmosphere of contradictions, uncertainty, lack of answers to sensitive questions" is dangerous. At the same time, Kocharyan said, he intends to participate in the elections, even if the authorities decide to hold them earlier: "Otherwise, we will give these people the opportunity to assert their power."
"I don't think it would be right to leave them alone with society. Therefore, we will participate and win," Kocharyan added.
According to the ex-president, protest activity in Armenia, which he said is experiencing an acute political crisis, could increase in the spring. Currently, 200,000-300,000 Armenian citizens are "radically disposed", Kocharyan noted. In his opinion, a second revolution after the "velvet revolution" in April-May 2018 would be problematic for Armenia, "but if the hope for a political path to power change fades away, then in the spring people will take to the streets again, and the wave of protest will be stronger than before".
In late 2020, Pashinyan announced his intention to hold snap elections to the National Assembly sometime in 2021. The PM came under fire after signing a statement with the Russian and Azerbaijani Presidents to end the war in Karabakh after almost 45 days. Under the deal, the Armenian side was forced to return all the seven regions surrounding Nagorno-Karabakh, having lost a part of Karabakh itself in hostilities.