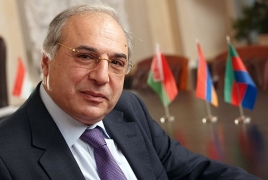 January 28, 2021 - 15:45 AMT
PanARMENIAN.Net - The Armenian ambassador to Israel Armen Smbatyan has said Yerevan has rejected an arms sales proposal from Israel the same year it sold weapons to Azerbaijan.
"Israel sold weapons to Azerbaijan the same year it offered arms to Armenia, we have refused," Aravot.am cited Smbatyan as saying on Wednesday, January 27. "They offered, we rejected. It was back in 2015."
During the six-week war unleashed by Azerbaijan against Nagorno-Karabakh, Israeli-made weapons were used to target civilians as well. The Armenian side recalled its ambassador from Israel in the first week of hostilities, but Smbatyan described the decision as "a diplomatic step" and said he believes he will be getting back to work.
The ambassador reminded that Azerbaijan has also used Russian, Turkish and Czech-made ammunition and maintained that Armenia should not focus on Israel's sales.
"Israel is a powerful state, and we should do everything to established the best possible relations with that country. Believe me when I say that we share a lot of good stuff, such as our history. Our two nations can open a new page in the world," he said.