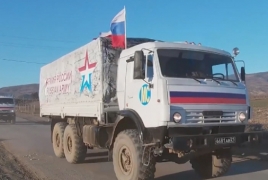 February 8, 2021 - 14:30 AMT
PanARMENIAN.Net - Russian peacekeepers have delivered 150 tons of humanitarian cargo to the Karvachar (Kelbajar) region of Nagorno-Karabakh, which is currently under Azerbaijan's control, the Russian Ministry of Defense reports.
According to the Russian side, the peacekeeping contingent thus continues to ensure the transit of humanitarian goods in the territories of Karabakh.
Another Russian column of the Humanitarian Response Center delivered construction materials to Karvachar through the Nagorno-Karabakh villages of Mataghis and Vank, which are under the Armenian side's control. The Russian Defense Ministry said the deliveries will be used to "restore power and water supply systems in civilian facilities and residential buildings."
A 2000-strong Russian peacekeeping contingent was sent to Karabakh after the completion of military hostilities unleashed by Azerbaijan in fall 2020.