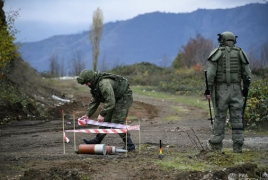 February 13, 2021 - 13:38 AMT
PanARMENIAN.Net - Engineering units of the Russian peacekeeping forces in Nagorno-Karabakh have cleared 1358,3 hectares of terrain, 425 kilometers of roads, and 1292 buildings, the Russian Defense Ministry reports.
Since the deployment of the Russian peacekeeping contingent in Karabakh, some 24,300 explosive objects have been discovered and cleared.
"Explosive objects and unexploded ammunition are removed and destroyed at a specially equipped landfill. Ammunition that cannot be evacuated is destroyed on site," the Ministry said.
Armenian Prime Minister Nikol Pashinyan, Russian and Azerbaijani Presidents Vladimir Putin and Ilham Aliyev on November 9 signed a statement to end the war in Karabakh after almost 45 days. Under the deal, the Armenian side has returned all the seven regions surrounding Nagorno-Karabakh, having lost a part of Karabakh itself in hostilities.