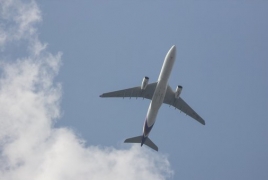 February 23, 2021 - 14:43 AMT
PanARMENIAN.Net - A Boeing 737 aircraft registered in Armenia has found itself in Iran under circumstances that have yet to be clarified, analyst and expert on U.S. foreign policy Suren Sargsyan said in a Facebook post on Tuesday, February 23.
The plane "was given or sold to Iran in unknown circumstances, and it is surprising how the aviation authorities have allowed that to happen, given the international sanctions against Iran. The aircraft was supposed to arrive in Armenia days ago but landed in Tehran instead," Sargsyan wrote.
"I'd just like to remind you that any entity (state) that sells products prohibited by U.S. law to Iran, may be subject to American sanctions."
Hakob Tshagharyan, a former aide to Prime Minister Nikol Pashinyan, said earlier that the plane flying from Tallinn, Estonia, was "hijacked" halfway and taken to Iran.
"On February 21, the Civil Aviation Committee of Armenia received a cable from the UAE General Civil Aviation Authority about an aircraft hijacking involving a Boeing 737 registered in Armenia," Tshagharyan wrote on Facebook on Monday.
"The plane took off from Tallinn, Estonia, and was supposed to land in Yerevan. However, it was decided mid-flight to go to the Emirates for a technical inspection. Due to "a technical malfunction", the plane ended up landing in Tehran."
Following the reports, the Civil Aviation Authority denied receiving official information about aircraft hijacking.
"The Committee is aware of the whereabouts of the plane and is cooperating with the aviation authorities of all the states involved," the agency said Tuesday, pledging to provide additional information once the investigation is over.