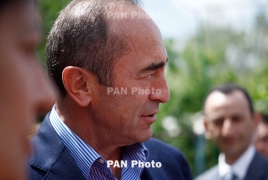 February 25, 2021 - 15:15 AMT
PanARMENIAN.Net - Second Armenian President Robert Kocharyan has urged the public to stand by the Armenian army and the state, amid political unrest that can potentially plunge the country into crisis.
"Authorities that have lost a war and surrendered territories must go. It will be the first guarantee of our national revival, it is the imperative of the moment," Kocharyan's office said Thursday, February 25.
The former ruling Republican Party (RPA) too weighed in on the situation, maintaining that the authorities "are trying to provoke civil clashes within their conspiratorial efforts to dismantle Armenia."
The RPA, whose chairman is third President Serzh Sargsyan, urged supporters to join the opposition rally in downtown Yerevan at 3:00PM Thursday, be vigilant and refrain from giving in to provocations.
The country is facing a serious political crisis after the top military brass demanded Prime Minister Nikol Pashinyan's resignation. The PM, however, claims he had already dismissed the chief of the Army General Staff. The parliamentary opposition has already weighed in on the matter, urging against bloodshed and calling for a peaceful transition of power.