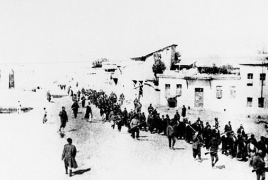 February 26, 2021 - 12:49 AMT
PanARMENIAN.Net - The Dutch Parliament adopted a motion on Thursday, February 25, calling upon the Government to recognize the Armenian Genocide, Armenia's diplomatic mission in The Hague and Luxembourg reports.
"Almost unanimously, the Dutch Parliament adopted the motion by [lawmaker] Joel Voordewind that calls upon the Government to recognize the Armenian Genocide to promote reconciliation, and prevent its repetition," the Armenian Embassy said in a tweet.
Voordewind from the ChristenUnie (Christian Union) - the smallest party in the departing coalition - said earlier that the Dutch government's vague position was "absurd".
"The government still uses the phrase 'the issue of the Armenian Genocide' or speaks of 'the terrible events'," Voordewind added in a statement.
April 24, 1915 is the day when a group of Armenian intellectuals were rounded up and assassinated in Constantinople by the Ottoman government. in 2021, Armenians worldwide will be commemorating the 106th anniversary of the Genocide, which continued until 1923. Some three dozen countries, including Greece, Russia, France, hundreds of local government bodies and international organizations have so far recognized the killings of 1.5 million Armenians as Genocide. Turkey denies to this day.