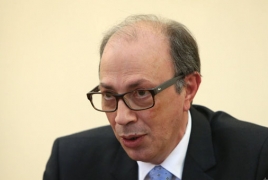 March 3, 2021 - 11:10 AMT
PanARMENIAN.Net - Foreign Minister Ara Aivazian and High Representative of the European Union Josep Borrell spoke over the phone on Tuesday, March 2 to discuss relations between Armenia and the bloc, cooperation within the Eastern Partnership and the conflict in Nagorno-Karabakh, the Armenian Foreign Ministry said in a press release.
The diplomats agreed that the entry into force of the Comprehensive and Enhanced Partnership Agreement opens new perspectives for the multi-sectoral partnership between Armenia and the European Union.
The agreement, which was signed in the framework of the Eastern Partnership Summit held in Brussels on 24 November 2017, takes bilateral relations between Armenia and the European Union to a partnership level and regulates the dialogue in the political and economic spheres, as well as sectoral cooperation and trade relations. The CEPA is an inclusive document, which creates a solid legal basis for the Armenia-EU partnership, outlining cooperation in various spheres, spanning from justice, security, economy, agriculture and infrastructures to environment and climate, education and science, culture, health, etc.
Aivazian and Borrell weighed in on cooperation within the Eastern Partnership, as well as events planned for the near future.
The two also discussed regional issues and matters of security and stability, the involvement of international partners in addressing the humanitarian crisis in Artsakh (Karabakh) and the challenges faced by the Armenians of Artsakh as a result, as well as the role of the OSCE Minsk Group co-chairmanship in the peace process.