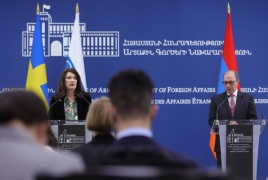 March 16, 2021 - 16:02 AMT
PanARMENIAN.Net - Armenian Foreign Minister Ara Aivazian believes a final political solution to the Nagorno-Karabakh conflict is possible only within the framework of a "strong OSCE Minsk Group Co-Chairmanship".
Following a meeting with OSCE Chairperson-in-Office Ann Linde in Yerevan on Tuesday, March 16, Aivazian said that the conflict entered a new stage of development with the trilateral statement signed to stop the Turkish-Azerbaijani aggression and the deployment of Russian peacekeepers in Artsakh (Karabakh).
"We consider the trilateral statement as a document aimed at restoring the ceasefire and reaffirming the security. Although it contains some provisions concerning the peaceful settlement, however it does not address its key elements, and the most important among them is the status of Artsakh, based on the right of the Armenians of Artsakh to self-determination. A final political solution to the conflict is possible only within the framework of the OSCE Minsk Group co-chairmanship," Aivazian said.
"Recent developments in the region have underlined the need for a strong OSCE Minsk Group Co-Chairmanship, which will be able to lead the peace process on the basis of principles and elements developed over the years. We also need a strong, cohesive OSCE as an institute responsible for regional security and peace. In this context, we attach importance to the role of the OSCE Chairmanship, including the Personal Representative of the OSCE Chairperson-in-Office.
"Armenia and the Armenian people have always and sincerely advocated for peace. As a nation that survived the first genocide of the 20th century, we know the value of peace and security. At all stages of the Nagorno-Karabakh conflict, Armenia has been in favor of an exclusively peaceful settlement of the issue. Today as well, we are fully aware of the opportunities that peace and real reconciliation can bring to our region, but peace is not just a pretty word. The peace built on the basis of the destruction of the civilian settlements of Artsakh, including the Hadrut region, the annihilation of the Armenian population and the creation of Azerbaijani settlements instead, cannot be sustainable and lasting. We will continue our fight for a just and dignified peace, by working closely with our international partners."
Also Tuesday, Linde said that the full implementation of the Nagorno-Karabakh ceasefire deal will provide a basis to move forward in the conflict resolution process, adding that several "outstanding issues" remain to be resolved.