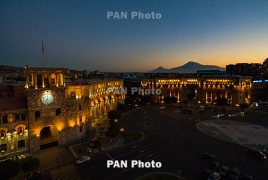 March 31, 2021 - 19:08 AMT
PanARMENIAN.Net - GDP growth in Armenia is projected to recover partially in 2021 (to 3.4%) and more strongly in 2022 (4.3%), the World Bank said in fresh predictions on Wednesday, March 31.
In 2020, Armenia experienced one of the region's sharpest GDP contractions—7.6%—as a severe Covid -19 outbreak and a military conflict with Azerbaijan late in the year impacted performance.
The World Bank said the recovery will be slow; the economy is unlikely to return to pre-Covid output levels until 2023.
"The baseline scenario assumes that the authorities will not enact additional lockdowns and restrictions in 2021. Although the pace of vaccinations will gradually ramp up, the authorities do not expect to vaccinate a significant share of the population until 2022. The baseline scenario also assumes improved political stability," the Bank said in its report.
The Central Bank of Armenia earlier revised its economic growth forecast for the country in 2021. Its governor Martin Galstyan said in mid-March Armenia's Gross Domestic Product (GDP) will expand by 1.4% instead of 2% that was forecast before the start of the year.