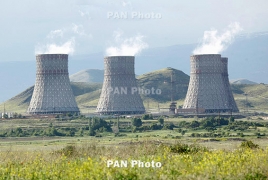 April 1, 2021 - 18:23 AMT
PanARMENIAN.Net - Repair work at the Armenian nuclear power plant is entering its final stage in 2021, Chief Executive Officer at RusAtom Service Evgeny Salkov said on Thursday, April 1.
Salkov attended a working meeting at the Armenian NPP and discussed the renovation project currently underway at the plant. The power station will shut down for 141 days this year to pave the way for annealing the reactor pressure vessel steels and modernizing the emergency cooling system.
Afterwards, the Nuclear Safety Regulatory Committee of Armenia will make a decision to extend the service life of the nuclear power plant until 2026.
"Armenia will get a more efficient nuclear power plant, and its safety will come closer to international standards," Salkov said. "Moreover, after the annealing procedure, the physical and mechanical properties of the reactor pressure vessel will be restored and the Armenian NPP can be operated beyond 2026."
Director of the plant Movses Vardanyan told reporters in mid-March that Armenia wants to extend the operating life of its Metsamor nuclear power plant for additional 10 years until 2036. The plant supplies approximately 40 percent of Armenia's electricity.