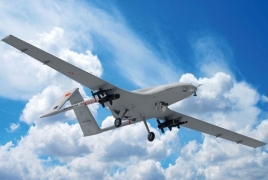 April 1, 2021 - 14:11 AMT
PanARMENIAN.Net - The United States Army is using the recent war in Nagorno-Karabakh to study the use of drones in warfare and how inexpensive UAVs make it easier to hunt and kill troops than ever before, Foreign Policy says in a fresh article.
"You can see video of tanks being hit by an unmanned aerial system, artillery positions being hit by an unmanned aerial system, troops being hit by an unmanned aerial system," said Col. Scott Shaw, the outgoing head of the Army's Asymmetric Warfare Group.
"What's clear in that conflict is that a less funded nation can do combined arms warfare," Shaw said. "You don't have to be the United States or Russia. The price point to entry into combined arms warfare is lower than initially thought."
Azerbaijani President Ilham Aliyev credited Turkish drones with helping his military to destroy more than $1 billion worth of Armenian equipment. But it's not clear how those numbers translate into truth. Shaw said the tremendous amount of disinformation flying around on open-source networks made it difficult to figure out everything that happened in real time.
Automation is likely to move beyond the skies, too. Shaw, an infantry officer by training, sees weaker militaries following the U.S. lead by deploying unmanned ground and sea vehicles. "If it comes by air, it's going to come by ground and eventually by sea," Shaw said. "These unmanned systems are just going to proliferate because they're cheaper, and they're just going to get smaller and smaller."
Meanwhile, unmanned aerial vehicles are becoming more lethal. Shaw noted that drones will increasingly resemble aerial tanks—flying, armored beasts that can pack a devastating punch. And as drones become harder to kill, troops on the ground will potentially become easier to kill, with battlefield surveillance also getting cheaper.
Armenian Prime Minister Nikol Pashinyan, Russian and Azerbaijani Presidents Vladimir Putin and Ilham Aliyev on November 9 signed a statement to end the war in Karabakh after almost 45 days. Under the deal, the Armenian side has returned all the seven regions surrounding Nagorno-Karabakh, having lost a part of Karabakh itself in hostilities.