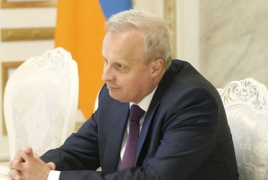 April 3, 2021 - 16:24 AMT
PanARMENIAN.Net - Moscow is used to the fact that some politicians "in certain countries" make various accusations, Russian Ambassador to Armenia Sergei Kopyrkin told reporters on Saturday, April 3, when asked about Azerbaijan's veiled accusations alleging that Iskander missiles were used in the Nagorno-Karabakh war.
Azerbaijan National Agency for Mine Action (ANAMA) earlier claimed to have found wreckage of Iskander-M missiles allegedly fired during Baku's six-week aggression against Karabakh (Artsakh) in fall 2020. Iskander M is the missile's variant designed for the Russian Armed Forces, with a range of at least 415 km. According to information provided by the Armenian Defense Ministry in 2016 however, Yerevan has bought the export version of the system, Iskander-E, which has a maximum range up to 280 km.
"You know, opinions may vary, we are used to the fact that different political circles, different figures express certain assumptions and accusations," Kopyrkin said in Yerevan.
"But I think there is an official position, which is quite clear and on which you need to focus․"
Both Russia and Azerbaijan have earlier denied that Armenia has fired Iskander missiles during the war. Armenian Prime Minister Nikol Pashinyan said in late February that the Iskander missiles did not explode or weren't fully functional during hostilities in Karabakh. Several days later, however, a spokesperson for Pashinyan said the PM had been given inaccurate information concerning the situation with the Russian missiles.