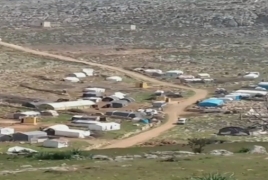 April 8, 2021 - 14:04 AMT
PanARMENIAN.Net - Turkey and forces it backs in Syria are building a settlement for Arabs and Turks in the northern district of Afrin, which used to be populated by Kurds, Rudaw reports citing local sources.
Video footage sent to Rudaw by an Afrin district local that requested to remain anonymous shows settlement camps in Shader village, located almost 13 kilometers east of the town of Jindires. A local source has said that the Turkish Ihsan Relief and Development Foundation has built 247 housing units for the settlement.
"The settlement project is being built on land in Sheikh Muhammad mountain -- where Newroz celebrations were held before the occupation," a 54 year old local source from north of Jindires told Rudaw's Hussein Omar on Tuesday. "I witnessed first-hand the concrete construction work on the settlement site."
"Dozens of trees were bulldozed on land belonging to the village of Hajj Hasanah, north of the city of Jindires, the land was leveled, and settlement work began on it," another local source in his 40s from the area said.
Since Turkey's capture of Afrin, Kurds have become a minority in the region for the first time in many decades. Under Turkish rule in Afrin, the Kurdish population has dramatically decreased, according to a report published by the Kurdish Democratic Unity Party in Syria (Yaketi), a political party independent of the two main Kurdish coalitions in Rojava on the anniversary of Turkish occupation of Afrin on March 18.
"Before the occupation, the amount of Kurds in Jindires was more than 98 percent," independent Kurdish politician and scholar Waleed Sheikho told Omar. "After the occupation, the Kurdish population around the town has been reduced to 30 percent, and 25 percent in the center of the town."
Afrin is now administered by groups backed by Turkey who have been accused of war crimes and crimes against humanity. Photographs quickly emerged in March 2018 of militiamen looting Kurdish homes and businesses and pulling down a statue of Kawa the Blacksmith – a core figure in Kurdish folklore. Observers accused the militias of ethnic cleansing after homes were commandeered by fighters, residents intimidated or kidnapped for ransom, and displaced families blocked from returning. The United Nations documented abuses of arbitrary arrest, detention, and pillaging.