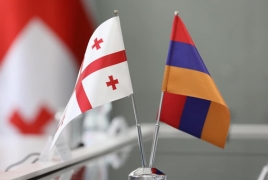 April 8, 2021 - 14:40 AMT
PanARMENIAN.Net - 64% of Georgians believe that the current state of the relationship with Armenia is good, according to a report published by The International Republican Institute's (IRI).
According to the survey, 22% of respondents said relations between the two countries are neither good nor bad, while a further 9% said they are in a bad state.
Relations of Georgia with Turkey and Azerbaijan, meanwhile, were appreciated more, with 73% and 66% of people describing them as good, respectively.
Furthermore only 11% of participants believe Armenia is the most important political partner of Georgia, and even less people (9%) think Armenia is Georgia's most important economic partner.
Also, 2-3% of respondents consider Armenia the greatest political or economic threat to Georgia.