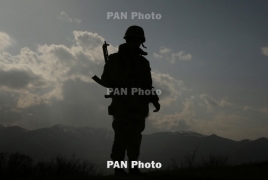 April 14, 2021 - 12:37 AMT
PanARMENIAN.Net - Armenia should seriously consider switching to a professional army and significantly changing the structure of military service or conscription, Prime Minister Nikol Pashinyan said in parliament on Wednesday, April 14.
"In strategic perspective, we imagine that border guards, and not the Armed Forces, will protect the borders, while army units will only deal with combat issues," Pashinyan said.
"The Defense Army, together with the [Russian] peacekeeping contingent will ensure the security of Artsakh (Nagorno-Karabakh)."
According to him, it is necessary to distinguish between the contractual and professional principles of serving in the army. Contract servicemen, he said, spend 14 days on combat duty, and then they are free for the next 14 days to engage in agriculture or some other work. Whereas having a professional army means that the Armed Forces should remain in their places of permanent deployment and have combat readiness in mind 24/7, Pashinyan noted.
Secretary of the Artsakh (Nagorno-Karabakh) Security Council Vitaly Balasanyan said in March that the country's authorities intend to build a professional army. Back then, Balasanyan failed to say whose idea it was to stop recruiting Armenian conscripts but did say that both the countries are going to need a professional army "one day."