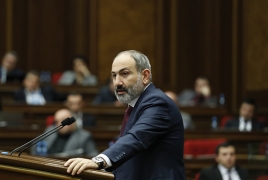 April 14, 2021 - 13:39 AMT
PanARMENIAN.Net - Armenian Prime Minister Nikol Pashinyan has said there is something fundamental in the Nagorno-Karabakh negotiation process, which has been hidden from the public for a long time. In the proposed Madrid Principles of the conflict settlement, there was an article on granting an interim status to Karabakh, which Azerbaijan had refused to discuss since 2011, Pashinyan said on Wednesday, April 14.
According to him, the Armenian side was supposed to ensure that the OSCE Minsk Group co-chairs persuade Azerbaijan to accept the temporary status of Karabakh, but "the fact is that Azerbaijan's position was accepted by the mediators in 2014-2015."
"Two months before the April 2016 war, the mediators clearly proposed to the Armenian side to abandon their aspirations to achieve a temporary status. The Armenian side rejected [the proposal]," Pashinyan said in a Q&A session in parliament.
"And two months later, the April war broke out, which was supposed to force the Armenian side to abandon their interim status agenda due to territorial losses."
Azerbaijan launched a large-scale military offensive across the entire line of contact with Karabakh (Artsakh) in the wee hours of April 2 in 2016. Clashes lasted lasted four days and were later dubbed the Four-Day War or the April War. Throughout the military campaign, 64 soldiers, 13 volunteers and four civilians, including a child, were killed and more than 120 people were wounded. According to information from the U.S. Department of State, the Azerbaijani lost more than 270 people overall.