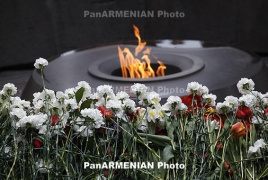 April 22, 2021 - 16:56 AMT
PanARMENIAN.Net - Ahead of the 106th Anniversary of the Armenian Genocide, the Kurdish Lobby Australia has amplified calls for Prime Minister Scott Morrison to accurately characterize the events of 1915-1923 as Genocide, reported the Armenian National Committee of Australia (ANC-AU).
Kurdish Lobby Australia is a not-for-profit organization promoting a greater understanding of Kurdish people in Australia, fighting for human rights and encouraging reconciliation between Kurdish Australians and other ethnic and religious groups in Australia.
In their letter to Prime Minister Morrison, they write: "Kurdish Lobby Australia requests the Australian Government officially acknowledge the Armenian Genocide", noting that recognition in Australia would place it in the company of nations including the United States, Canada, France, Italy and Germany.
In light of recent actions by the Turkish Government towards its Kurdish minority, the letter accurately describes the consequences of not acknowledging one's own history.
"Perhaps one reason why the modern state of Turkey has oppressed and conducted so many massacres against Kurds since 1923 is that the Republic of Turkey has been unwilling to recognise the seriousness of the crimes perpetrated against Armenians, Assyrians and Greeks during Ottoman times," the letter reads.
April 24, 1915 is the day when a group of Armenian intellectuals was rounded up and assassinated in Constantinople by the Ottoman government. On April 24, Armenians worldwide willl be commemorating the 106th anniversary of the Genocide which continued until 1923. Some three dozen countries, hundreds of local government bodies and international organizations have so far recognized the killings of 1.5 million Armenians as Genocide. Turkey denies to this day.