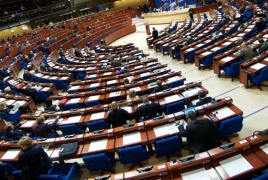 April 23, 2021 - 11:44 AMT
PanARMENIAN.Net - Germany's Minister of State for Europe Michael Roth has called on Azerbaijan to release Armenian prisoners of war.
Roth made the remarks at the plenary sitting of the Parliamentary Assembly of the Council of Europe (PACE), when he was asked by Azeri deputy Rafael Hüseynov about Baku's demand for minefield maps in Karabakh. The German Minister of State for Europe did not weigh in on the matter raised by Hüseynov and focused on Azerbaijan's obligations instead.
"First of all, let me call on Azerbaijan to release Armenian prisoners of war. We regularly remind Azerbaijan of the need to execute the judgements of the European Court of Human Rights, and we expect them to make progress," Roth said.
"And we also need to engage in dialogue. As member states of the Council of Europe, both Armenia and Azerbaijan committed to protecting human rights, and the basic principles of the Council of Europe cannot simply be suspended in times of conflicts."
Roth noted that the November 2020 ceasefire agreement includes commitment to human rights and and that special attention will be paid to that aspect of it.
"Participating states in the Council of Europe have to accept human rights monitoring missions to the countries. We therefore support the work of the OSCE's Minsk Group and its co-chairs and the Minsk Group's special envoy, ambassador [Andrzej] Kasprzyk who heads up that monitoring mission. We hope that the Minsk Group and its work will lead to a durable solution, and certainly we are prepared to make our contribution to that endeavor," the politician added.
Several dozen Armenian POWs have returned from Azerbaijan so far, although Armenian officials say many more people are being held in Baku. Azerbaijani President Ilham Aliyev claims, however, that persons being kept in Baku are not prisoners of war but "terrorists and saboteurs". Officials and human rights advocates from the Armenian side, however, maintain Azerbaijan is still holding hundreds of people hostage, pledging to submit evidence proving the capture of said persons to international agencies and courts.