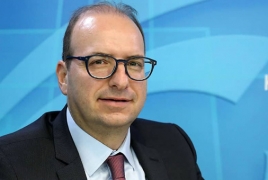 April 23, 2021 - 17:40 AMT
PanARMENIAN.Net - Cypriot Defense Minister Charalambos Petrides will arrive in Yerevan to represent President Nicos Anastasiades at events commemorating the memory of the victims of the Armenian Genocide on April 24, Cyprus Mail reports.
In Yerevan, Petrides will lay a wreath at the monument for the Genocide victims and visit the Genocide museum. He will also attend an exhibition dedicated to Armenian cultural heritage.
During his visit, the minister will hold meetings with President Armen Sarkissian, Prime Minister Nikol Pashinyan, Foreign Minister Ara Aivazian and Defense Minister Vagharshak Harutyunyan.
On April 24, 1915, a large group of Armenian intellectuals was rounded up and assassinated in Constantinople by the Ottoman government. On April 24, Armenians worldwide will be commemorating the 106th anniversary of the Genocide which continued until 1923. Some three dozen countries, hundreds of local government bodies and international organizations have so far recognized the killings of 1.5 million Armenians as Genocide. Turkey denies to this day.
In 1975, Cyprus became the first European country to recognize the Armenian Genocide and declare April 24 as a National Remembrance Day of the Armenian Genocide in Cyprus.