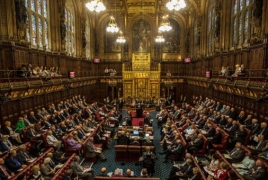 April 24, 2021 - 12:11 AMT
PanARMENIAN.Net - MP Tim Loughton, Chairman of the All-Party Parliamentary Group for Armenia in the British Parliament, has prepared an Armenian Genocide recognition bill which will be submitted to the Parliament of the United Kingdom in May.
In a video posted by the Armenian Genocide Museum-Institute, Loughton says he will push for the adoption of the bill this spring.
"I am glad to inform you that I have prepared the Armenian Genocide recognition bill to commemorate it through official recognition and remembrance and to put forward the recognition of that Genocide on a statutory basis in the British parliament," the MP said.
"I hope there will be considerable support for that measure in both Houses of parliament, and I will push hard for his in the new session of parliament, which starts in May.
"So as a friend of Armenia in the British parliament and an admirer of the achievements of the vibrant Armenian community in the UK, I want to express my solidarity with Armenia and the Armenian people around the world on this day of remembrance."
On April 24, 1915, a large group of Armenian intellectuals was rounded up and assassinated in Constantinople by the Ottoman government. Today, on April 24, Armenians worldwide are commemorating the 106th anniversary of the Genocide which continued until 1923. Some three dozen countries, hundreds of local government bodies and international organizations have so far recognized the killings of 1.5 million Armenians as Genocide. Turkey denies to this day.