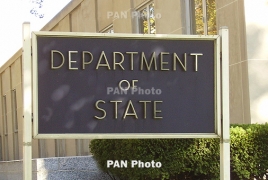 April 30, 2021 - 10:49 AMT
PanARMENIAN.Net - The United States Secretary of State Antony J. Blinken has approved a waiver extension for Section 907 to authorize direct U.S. aid to the Azerbaijani government, a State Department Spokesperson confirmed to PanARMENIAN.Net on Thursday, April 29. The extension went into effect on April 26, the spokesperson said.
Section 907 of the United States Freedom Support Act was adopted in 1992 to ban direct U.S. aid to Azerbaijan unless the latter takes "demonstrable steps to cease all blockades and other offensive uses of force against Armenia and Nagorno-Karabakh." But the Congress amended Section 907 in 2002 to allow the president to waive the provision and authorize military aid to Azerbaijan, which is what every U.S. president has done since every year.
"The United States values its strategic partnership with Azerbaijan," the spokesperson said in an emailed statement.
"The United States has provided over $1.5 billion in bilateral assistance for Azerbaijan since 1992, including over $6 million in Covid-19-related assistance and nearly $10 million of bilateral assistance in 2020."
When still a U.S. presidential candidate, however, current President Joe Biden issued a statement in late October 2020, writing that "a large-scale humanitarian disaster is looming for the people of Nagorno-Karabakh, who have already suffered too much and need to have their security protected." Biden then said the Trump administration "must fully implement and not waive requirements under section 907 of the Freedom Support Act to stop the flow of military equipment to Azerbaijan."
Moreover, the waiver is interpreted as a way for Azerbaijan to "support United States efforts to counter international terrorism," but during the war Azerbaijan hosted thousands of Syrian mercenaries hired by Turkey to fight against the Armenians.