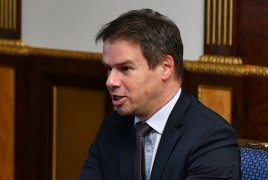 May 1, 2021 - 11:45 AMT
PanARMENIAN.Net - France is involved in the issue of the return of the Armenian prisoners of war from Azerbaijan at the level of President Emmanuel Macron, French ambassador to Yerevan Jonathan Lacôte said Friday, April 30, the Armenian service of RFE/RL reports.
The ambassador noted that one of the reasons for a recent phone call between Macron and Russian leader Vladimir Putin was that there was no progress in the release of Armenian prisoners of war, whereas the matter needs to be settled urgently.
Lacôte revealed that Macron spoke to Armenian Prime Minister Nikol Pashinyan on the evening of April 24, one day before the phone call with Putin. The French President is trying to activate the OSCE Minsk Group, and Russia, a part of that process, is present in Nagorno-Karabakh, he added.
According to the ambassador, the goal is to resume the political process to discuss problems that are not regulated by the November 9 document, as there are "a number of issues" that need to be addressed by the OSCE Minsk Group.
Several dozen Armenian POWs have returned from Azerbaijan so far, although Armenian officials say many more people were being held in Baku. Azerbaijani President Ilham Aliyev claims, however, that persons being kept in Baku are not prisoners of war but "terrorists and saboteurs". Officials and human rights advocates from the Armenian side, however, maintain Azerbaijan is still holding hundreds of people hostage, pledging to submit evidence proving the capture of said persons to international agencies and courts.