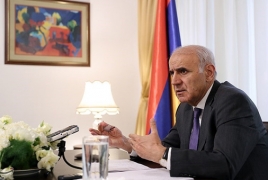 May 3, 2021 - 13:09 AMT
PanARMENIAN.Net - Armenia wants to see Iran's influence on Azerbaijan for the release of all prisoners of war, Yerevan's ambassador to Tehran Artashes Toumanian said in an interview with ISNA.
Toumanian said it is hard to give a comprehensive assessment of the situation following Azerbaijan's large-scale military aggression, which was supported by Turkey and terrorist mercenaries and caused thousands of deaths.
"But it is clear that the goal of Turkey's direct and extensive involvement in military processes is to realize their expansionist policy in the region," the ambassador said.
"Today, Iran's active participation in solving many problematic issues can be extremely useful. In particular, we would like to see Iran exercise a practical influence on the Azerbaijani government for the release of Armenian prisoners of war. At the same time, the activation of all elements of Armenia-Iran relations, which ensure security and economic development for the two countries, is of great importance."
According to Tooumanian, one of the most condemned facts in connection with the recent Karabakh war is Turkey's recruitment of mercenary terrorists, who have been previously involved in Syria and Libya, and their transfer to the region.
"These mercenaries were known for their atrocities against religious minorities in the Middle East. They have also committed war crimes against the civilians of Artsakh. At present, according to various reports, Azerbaijan and Turkey are trying to resettle them in Nagorno-Karabakh. Armenia has always condemned terrorism in all its forms and is ready for cooperation in order to neutralize and completely eliminate this threat," the anvoy added.
In the war against Artsakh (Karabakh), Turkey supported Azerbaijan militarily, also by transferring terrorist mercenaries from the Middle East to fight against Karabakh. Armenia was the first to report on Turkey's deployment of thousands of Syrian fighters to Azerbaijan. International media publications followed suit, as did reactions from France, Russia, Iran and Syria. The Nagorno-Karabakh Defense Army has already unveiled footage from the interrogation of two such terrorists captured on the front.