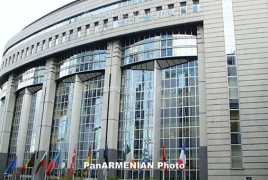 May 4, 2021 - 18:53 AMT
PanARMENIAN.Net - 121 Members of the European Parliament have signed a letter demanding the release of Armenian prisoners of war, "illegally being held in Azerbaijan for months," MEP François-Xavier Bellamy said on Twitter.
Bellamy joined forces with Vice-Chair of the EPP Group in the European Parliament Andrey Kovatchev and MEP Loucas Fourlas to arrange for and send the letter to President of the European Council Charles Michel and President of the European Commission Ursula von der Leyen.
The 121 MEPs who have signed the letter represent the entire political spectrum, Bellamy wrote.
"It is an obligation under international law. An urgency for so many families suffering from this terrible uncertainty. We must act to obtain the freedom of these soldiers kept as hostages," the MEP added.
Several dozen Armenian POWs have returned from Azerbaijan so far, although Armenian officials say many more people were being held in Baku. Azerbaijani President Ilham Aliyev claims, however, that persons being kept in Baku are not prisoners of war but "terrorists and saboteurs". Officials and human rights advocates from the Armenian side, however, maintain Azerbaijan is still holding hundreds of people hostage, pledging to submit evidence proving the capture of said persons to international agencies and courts.