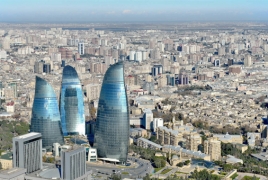 May 5, 2021 - 18:42 AMT
PanARMENIAN.Net - Azerbaijan has put Lebanese-Armenian prisoner of war Viken Euljekian on trial on alleged terrorism charges, local media report, although Euljekian – a civilian – was captured after a ceasefire statement was signed.
Euljekian and Maral Najarian – who was released from jail four months after being kidnapped in Nagorno-Karabakh – went missing on November 10. After her release in March, Najarian shared her experience and details from their abduction in the city of Shushi: "I thought they were going to burn us alive."
Maral said back in March that she and Viken were surrounded by Azerbaijani troops immediately after reaching Shushi, where the two were heading to fetch belongings they had left behind during a hasty evacuation. Maral and Viken were told they would be free to go if everything was alright, but were thrown into a car after the Azeris found images of Viken wearing his volunteer's camo and accused the two of being "terrorists".
Despite mounting international pressure, Azerbaijan said it would prosecute Euljekian for taking part in the Second Karabakh War as a "mercenary".
In the war against Artsakh (Karabakh), Turkey supported Azerbaijan militarily, also by transferring terrorist mercenaries from the Middle East to fight against Karabakh. Armenia was the first to report on Turkey's deployment of thousands of Syrian fighters to Azerbaijan. International media publications followed suit, as did reactions from France, Russia, Iran and Syria. The Nagorno-Karabakh Defense Army has already unveiled footage from the interrogation of two such terrorists captured on the front.