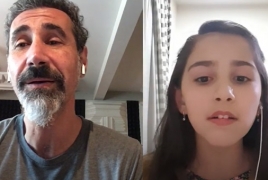 May 7, 2021 - 14:56 AMT
PanARMENIAN.Net - System Of A Down frontman Serj Tankian was joined by students from Artsakh (Nagorno-Karabakh) to perform "Bari Aragil" at the Hope For Armenia virtual event hosted for Teach For Armenia on May 6.
The program in support of education in Armenia and Artsakh drew many attendees, including cameos by actress and singer Cher, entrepreneur Kim Kardashian, Alex and Ani founder Carolyn Raphaelian, the New England Patriot's director of football Berj Najarian, TUMO founder Sam Simonian, physician and producer Dr. Eric Esrailian, and others.
Through the event, Teach For Armenia showcased its work for educational equity, including short documentaries on student-led Community Impact Projects in the village of Choratan on near the border with Azerbaijan, its wartime Emergency Education Response in Artsakh, and the piloting of Seroond Schools, a new and innovative school model in Dilijan.
Teach For Armenia also launched its new Nation-Builders school sponsorship program. Through the program, individuals and organizations anywhere in the world can sponsor a school community in Armenia or Artsakh and receive a unique engagement experience in return.
So far, Teach For Armenia has secured $90,000 in commitments towards the Nation-Builders program, and aims to raise a total of $250,000 for over 20 schools by September 2021.