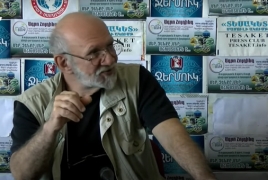 May 12, 2021 - 18:24 AMT
PanARMENIAN.Net - A Roman aqueduct dating back to the 2nd century AD was discovered during archaeological excavations in Artashat, Armenia, head of the expedition Mkrtich Zardaryan told a press conference on Wednesday, May 12.
"Such aqueducts were built exclusively on the territory of the Roman Empire. Armenia was in fact a province of the Roman Empire during the construction of the aqueduct in Artashat," Zardaryan said, Novosti Armenia reports.
According to researchers, the structure consists of 3-3.5 meter-long pylons at a distance of 2-2.5 meters from each other. Archaeologists believe that the aqueduct delivered water from Vedi to the Artashat valley.
Zardaryan said that foundations of two Armenian palaces, water pipes, Roman baths have also been found in this territory.