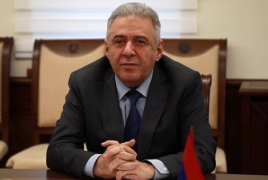 May 17, 2021 - 18:13 AMT
PanARMENIAN.Net - Acting Defense Minister Vagharshak Harutyunyan spoke to the Secretary General of the Collective Security Treaty Organization Stanislav Zas over the phone on Monday, May 17 and said that if the situation in Armenia's south is not resolved quickly, the consequences can be unpredictable.
On the morning of May 12, the armed forces of Azerbaijan violated the border of Armenia in the southern province of Syunik, advancing 3.5 kilometers and surrounding Sev Lake, which is situated on the border between the two countries but is predominantly a part of Armenia. On May 13, the Azerbaijani military committed more border violations against Armenia, advancing near Vardenis (Gegharkunik province) and Sisian (Syunik province).
Harutyunyan told Zas that although several groups of Azerbaijanis have withdrawn from Armenian territories and returned to their original positions, others are still on Armenia's soil, which means problems that emerged due to Azerbaijan's provocation haven't been resolved yet.
The Armenian defense chief noted that the Azerbaijani troops are under the control of the Armenian army.
Zas said, in turn, that the organization is following the situation and will discuss the matter at an upcoming meeting of the Council of CSTO Foreign Ministers.
Also Monday, Harutyunyan spoke to the director of the Border Guard Service of Russia's Federal Security Service, Colonel-General Igor Konstantinov.