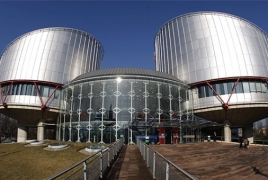 May 27, 2021 - 15:34 AMT
PanARMENIAN.Net - Armenia has applied to the European Court of Human Rights to ensure respect for the fundamental human rights of six Armenian servicemen captured by the Azerbaijani military on Thursday, May 27, the Representative of Armenia before the ECHR reports.
The Office of the Representative has requested ICHR interim measures under Rule 39 of the Rules of Court against Azerbaijan in the name of the individuals taken as prisoners of war while carrying out engineering work in the bordering area of the Gegharkunik region early in the morning on 27 May 2021.
"The request aims to ensure respect for the captives' rights to life and prohibition of torture envisaged by the European Convention on Human Rights," the Representative said.
Earlier on Thursday, six servicemen of the Armenian Armed Forces were surrounded and captured by the Azerbaijanis while carrying out engineering work in the border zone of the Gegharkunik province.
On the morning of May 12, the armed forces of Azerbaijan violated the border of Armenia in the southern province of Syunik, advancing 3.5 kilometers and surrounding Sev Lake, which is situated on the border between the two countries but is predominantly a part of Armenia. On May 13, the Azerbaijani military committed more border violations against Armenia, advancing near Vardenis (Gegharkunik province) and Sisian (Syunik province). One Armenian serviceman was killed in Azerbaijan's shooting on May 25.