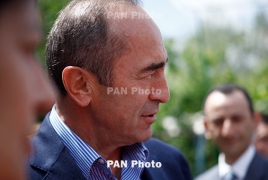 June 3, 2021 - 17:58 AMT
PanARMENIAN.Net - Second Armenian President Robert Kocharyan has weighed in on his steps if "traitors" try to flee the country, pledging "to catch and bring them back", no matter where they go.
"Wherever they go, we'll find and bring them back, you rest assured," Kocharyan told supporters on Thursday, June 3.
"People must be held accountable for what happened; and that must be achieved through justice in the Republic of Armenia."
Kocharyan is heading the alliance of the Armenian Renaissance party and the Armenian Revolutionary Federation (Dashnaktsutyun) in the upcoming snap parliamentary elections in June.
Acting Armenian Prime Minister Nikol Pashinyan announced on March 18 that Armenia will hold snap parliamentary elections on June 20. The PM came under fire after signing a statement with the Russian and Azerbaijani Presidents to end the war in Nagorno-Karabakh almost 45 days after the start of the military hostilities. Under the deal, the Armenian side was forced to return all the seven regions surrounding Karabakh, having lost a part of Karabakh itself in hostilities.